Five former players and coaches were elected as the third class of the VBL Hall of Fame, and will be recognized this weekend.
The 2018 inductees include Kevin Anderson, Thaddeus R. "Ted" Bosiack, Bill Burkholder, Rob Mummau and Billy Sample.
Individual plaques will be presented to inductees and the third class will be recognized at the 2018 VBL All-Star Game on July 8.
KEVIN ANDERSON
Coached the Winchester Royals for five seasons with one VBL championship… Coached the New Market Rebels for two years, reaching the playoffs in one season… Currently the head coach at Shenandoah University and has guided the Hornets to three Division III World Series appearances.
THADDEUS R. "TED" BOSIACK
Played and managed the Staunton Braves from 1953-1959, and again from 1973-1974… During that span he won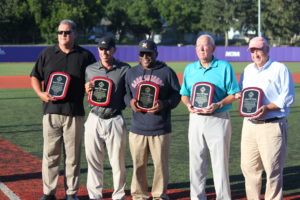 three VBL championships and one Virginia Mountain League title… John Moxie Memorial Stadium ballpark in Staunton has since been dedicated as Ted Bosiack Field.
BILL BURKHOLDER
Managed the Harrisonburg Turks for three seasons, winning two VBL championships… Managed the Staunton Braves in 1964… Played one year of professional baseball and served four years as President of the VBL.
ROB MUMMAU
Played for the New Market Rebels from 1990-91 and in 1992 with the Winchester Royals…. In 1993, he was drafted in the 29th round by the Toronto Blue Jays…. Played nine seasons (1993-2001) in the Blue Jays organization and advanced as high as the Triple A level before retiring after the 2001 season… Was a lifetime .249 hitter with 27 home runs in 658 games… In 2002 he signed on with the Seattle Mariners as a full-time scout… Also managed in the Rookie League for three seasons and Low-A Level for four seasons in the Mariners' minor league organization… In 2009 he received the Scout of the Year Award presented by the Middle Atlantic Major League Baseball Scouts Association.
BILLY SAMPLE
Played for the Harrisonburg Turks… Played nine years in the majors with the Texas Rangers, New York Yankees and the Atlanta Braves… Finished his major league career with a .272 career batting average and 46 home runs… Named to the Topps All-Rookie Team in 1979 and was fifth in the American League in steals in 1983… Has worked as both a broadcaster and sportswriter since his retirement.